December 1st, 2012
This week I received my acceptance letter from the C.M. Russell Museum in Great Falls, MT for the 2013 C.M. Russell auction of original western art! The painting chosen is titled 'Pals', which is a 22 x 28 oil on canvas. I am so honored to be included with such wonderful western artists from all over the world. The Russell Auction is a world class event and is part of Western Art Week in Great Falls each year. Art collectors gather in this small Montana city each March for a week of fun and art related events.

For more information on The Russell 2013:


March 1st, 2011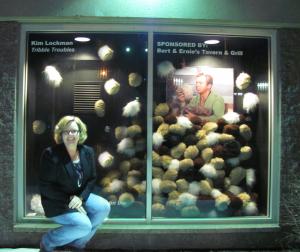 Last night I attended the reception for The Urban Art Project in Great Falls, MT. There was a healthy turnout and everyone enjoyed the art, even though the weather was doing all in it's power to put a damper on the event.
I had a friend snap a quick pic of me with my window display. My Trek art was the featured work in Bert & Ernie's, across the street.

Thanks to Jean Price for her undying passion to continue art awareness int Great Falls!